First

of the

4WDs
Who would have ever thought that a name from a cartoon series made popular during the 1930s may have been associated with the evolution of the four-wheel drive vehicle?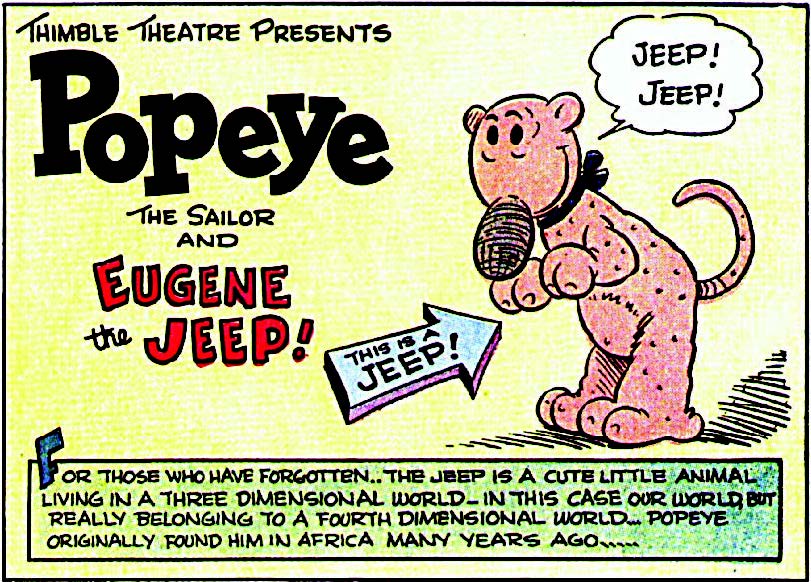 How about this: How many of us remember a time when four-wheel drive vehicles weren't commonplace? Not very many, I would guess, and that was the case up into the 1960s. This story is about three vehicles that changed the four-wheel drive market in the early days of that business with each manufacturer making "shot in the dark" decisions with hopes of being successful with their models. Those three vehicles—the Willys Jeep, International Harvester's Scout and the Ford Bronco.
It was more than 20 years from the first Jeep to when Ford introduced its Bronco, but the concept was new and the demand was not exciting.
The Willys Jeep
Four-wheel drives evolved rather slowly. When the Army proposed a "reconnaissance car," they contacted 135 different companies to create working models. Only two of those, American Bantam and Willys-Overland, responded. The Army deemed Bantam too small of a company to produce the numbers they required, but they liked Bantam's design and asked Ford and Willys-Overland to use that design and make their own changes to it. In short, after field testing and negotiations were completed, the result was the Willys MB—the Jeep!
That cartoon series mentioned was "Popeye the Sailor" and one theory has it that the Jeep was given that as a nickname in 1943 by a G.I. when describing the maneuver ability and versatility of the Army's newly designed vehicle. It was similar to Popeye's strange pet, "Eugene the Jeep"—small and able to move in difficult places. Still another thought is that the vehicle was designated as a "general purpose" or "GP" and the term "GP" was slurred into Jeep.
The "CJ"
Towards the end of World War II, the tide had turned in favor of the Allied forces and wartime purchasing was slowing down noticeably. The folks at Willys started offering the "CJ," or civilian Jeep, to the domestic market. By 1965, when the Ford Bronco came out, Jeep was already offering the "CJ-5" and the improvements with each model.
The "CJ-2A"
At the end of the war, Jeep came out with a model designed for use on farms and ranches. A person could buy it with a long list of options that would help it compete with a farm tractor, including PTOs on the front or rear, a belt pulley, a rear hydraulic lift, a snowplow, welder, generator and even implements like a mower and a disc.
If other manufacturers considered making their own version of the Jeep "CJ," they probably dropped the idea due to Jeep's lackluster sales. The "CJ" had merit, but were people going to buy a vehicle that didn't address all their transportation needs? It would be nice in snow and yet it was hard to keep warm in it on cold days. With its four-wheel traction, it would go anywhere, but at its top speed of under 50 miles per hour. It was well built and dependable. But when you did need parts or service, they may be some distance away.
As such, the four-wheel market remained rather stagnant for almost another 15 years.
International Harvester's Scout
By the mid-1950s, people at International Harvester (IH) began considering a competitor for Jeep's "CJ." IH had offered the "Travelall" in 1953 and thoughts of using some of the same features as the Jeep to create their model began evolving.
So it was that in 1960, IH introduced the Scout 80, or simply, the Scout. It had many similarities to the Jeep "CJ;" however, the body had been designed with rounded corners, solid doors, more comfortable seats and a bigger motor.
Dave Bladow's Jeep is shown above, as is a rare Scout owned by Bryan Bladow, Dave's son, also from Rutland, North Dakota. It is a 1961 Scout 80. It was originally purchased by a member of the Kiefer family, who were longtime owners of a hardware store and IH dealership in Cayuga, North Dakota, just down the road from Rutland. Bryan became the second owner within the last two years. Until he acquired it, the vehicle had sat in a garage, untouched since 1986—more than 30 years! This truck has 49,000 miles on it! It came with a 152 Cubic inch "Comanche" four cylinder engine with 93 horsepower and a three-speed manual transmission.
The Scout 80 was made until 1965 when the 800 and subsequent models were produced until 1980. Along with those models came a steady stream of options and improvements. For the sake of this story, we are discussing the pre-1965 models though—more on newer models perhaps at a later date.
The Ford Bronco
Ford Motor Company must have been watching the Willys Jeep and then International's Scout very closely. But they were quite sluggish to produce a vehicle. They wanted to compete against Jeep and IH but it seemed that almost no one knew exactly what the market was. As we look now, it's easy to see that the buying public wanted more comforts, plus a go-anywhere type of vehicle. In the mid-1960s, Ford finally stepped into the market and introduced the 1966 Bronco. With it were some "extras" that the others hadn't offered or had just come out with.
For its initial launch in August of 1965, a six cylinder and three-speed transmission, or three-on-the-tree, was it. But by the spring of 1966, Bronco could be ordered with either a 170 ci six cylinder or the 289 ci V-8. The three-speed manual was the only transmission available until 1973.
Despite all their efforts, Ford only sold 23,700 Broncos that first model year. In fact, in the 10 years following, there was only one that went over 25,000. It would make one wonder if that was an acceptable number back then or a borderline failure?
Ford offered over a dozen colors and some two-tone paint schemes, if the second color was white, and if you bought a roof for it!
From all-terrain to SUVs
All three of the vehicles featured were offered, at some point in their history, with two-wheel drive. It would be interesting just how many were made that way, but without question, all the vehicles were known for their all-terrain abilities that four-wheel drive offered.
As stated earlier, the civilian acceptance was an unknown, especially for Jeep. But, as they entered the market, each company speculated on what might be strong selling points and they made changes that the buying public looked for.
For Jeep, just trying to sell the public on a rather austere looking vehicle with no bells and whistles was tough. Had it been easy, competition would have been knocking on the door much sooner. As it was, from 1945 until 1961, Jeep had that market to themselves. When IH decided to jump in the market, they took things a step farther than Jeep with body changes, more options and power, a large dealer network and the knowledge that a sport and utility vehicle would sell. With the introduction of their new Bronco in 1966, Ford already had assurance that their model would sell. No testing the market on the concept. Jeep and IH had already proven that. Ford took what Jeep and IH had learned and then added their ideas to it.
It should be said that all the models offered different removable tops. Other tops were available as aftermarket items.
It's interesting to see how four-wheel vehicles evolved, first with a few comforts and eventually to the SUVs they are now with options like those in a car. Sometimes one wishes for the basic vehicles that they used to be!