An itch gets scratched
In our last visit, I mentioned that I was hoping to go to Colorado and cut wheat. Finally this summer, a plan worked out. A few years back, when I went down to Waukomis, Oklahoma and helped Kurt Simons harvest wheat, we were joined by a group of South Africans who worked for Kurt's dad, Pat. One of these was Louis Le Grange. Louis has been working for Pat Simons for about 15 years. Louis called and asked if I was available to come up and help Pat harvest wheat around the Denver area. I agreed of course and July 21, I fired up Lil Red and headed out. I left Alva going west on Hwy. 64 headed towards Buffalo, Oklahoma. I was going to stop by Buffalo and pick up the title to my 1956 International pickup. After picking up the title, I continued on Hwy. 64 west towards Rosston, Oklahoma, where west of town I caught Hwy. 283 that headed north into Kansas.
Along the way, I took some time to look around Englewood. Located in Kansas, just a stone's throw over the Oklahoma line, this little village was still putting up a fight to stay alive. I was really impressed with the number of homes that appeared to have occupants. Englewood had their post office inside the old school house, which was the first time I had seen that.
I stayed on Hwy. 283 until I found Hwy. 160 headed west and I took it over to just east of Meade, Kansas. There I picked up a back road and headed north to Fowler, Kansas. I nosed around Fowler a little bit. I had been in Fowler before and have always wondered about the local history. I slowly meandered around, taking in the atmosphere of the small town, paying attention to the small details.
Once back home from the trip, I did some research on the little community and learned some of the local history. The town of Fowler was named after George Fowler, who laid the town out with Perry Wilden on 80 acres that Mr. Fowler owned. They felt the location was ideal and, like most speculators, really anticipated the little community would flourish.
Mr. Wilden ran into George and Fanny Eckert from Kentucky on his way back to Dodge City, Kansas. They had seen one of his advertisements for free lots and had traveled to take advantage of the offer. They set up in Fowler and built the first hotel called The Waco House. Linn Frazier soon followed with a general store and the town was born.
The really unique thing about the town is the Jones and Plummer Trail, which ran right down Main Street. The Jones and Plummer Trail ran between Ft. Elliot, Texas and Dodge City, Kansas. From late 1874 to late 1888, it provided a way to move freight between these two areas out on the frontier. Like most trails, the railroad was its demise. I left Fowler headed north out of town on yet another back road. After a few miles traveling north, the road forked and I stayed on the left fork and ended up coming into the south end of Ensign, Kansas. As you know, I always enjoy spending some time in these little prairie communities and this one was no different as I drove the streets a bit. You can't visit one of the jewels on the plains without checking out main street, so after checking it out, I headed west on a dirt road towards Cimarron, Kansas.
I slipped through Cimarron and got on Hwy. 50/400 and headed west. I stayed on this highway, passing towns like Ingalls, Charleston, Pierceville and Garden City until Lakin, Kansas; here I took Hwy. 25 north. Garden City is a really interesting town. For those of you who have never spent any time out on the plains, they are dotted with these small, quaint, sparsely populated towns, but then every so often, there is a big city or what we consider a big city. It is really interesting to drive down the old main streets in these towns. You can tell they were the life blood of the region at one time. Garden City is still grand, but at one time, I bet she was really something.
I took Hwy. 25 north until I came into Leoti, Kansas. Some readers may remember my little adventure into Leoti to pick up a hit and miss engine earlier this year. At Leoti, I took Hwy. 96 west past Selkirk, Tribune and Horace, Kansas into Colorado. After crossing the state line, I went by Towner, Colorado on my way to Sheridan Lake where I found Hwy. 385 and took it north. This stretch of road would be my home for a while as I traveled up through Cheyenne Wells and Burlington on my way to Idalia, located on Hwy. 36 going west. I took this road all the way into Strasburg, Colorado and the home of my good friend, Earl Williams.
After arriving at Earl's house, we visited a bit and then I went over to Louis' house and got settled in for the night. The next morning, we got after it; they had already harvested about 1,000 acres or so before I got there, but we still had more than 3,000 left to harvest. Harvesting wheat around the Denver area is a tale of two sides. You have the natural beauty that you wake up to every morning, but on the flip side, you have to deal with all the traffic when you are moving from field to field. Even with the header off, it is a challenge as a lot of the drivers have very little respect for agriculture. The sad part is Denver is a western town born on cattle and mining, but it feels like the city wants to wash itself of its agriculture heritage.
You might be wondering how close to the city we cut wheat. If you look up the Gaylord Rockies Resort and Convention Center west of the Denver International Airport, we cut wheat all around it. There are also some fields we cut in Prairie Center, Colorado. The other challenge to cutting wheat in an urban area is the amount of rubbish in the fields. Not just paper and plastic but old furniture, mattresses, bikes and even old radials. I know this for a fact because I happened to pick up one of these radials and ran it through the feeder house. Luckily it stopped at the feed accelerator and the feeder house chain gave way.
I know what you're thinking— how can anyone with half a brain not see a tire in the field? When the wheat is thick, it is easier than you think, especially when you are using a stripper header since these things pick up any and everything and fling it into the auger to be taken to the feeder house. If you have never run a stripper header or took the time to look at one, you need to if you ever get the chance. If you would have showed me the fingers that attach on the header that strip the wheat and fling it into header auger, I would have told you it will never work. But it does work and it works well, not just on wheat either as I have stated. Oh, in case you're wondering, I was not the first person to get a tire stuck; it had happened two other times—one time the tire got past the feed accelerator and back into the sieves. Louis told me it destroyed everything back there.
One of the experiences that made this trip special was the location, not just that you had the Rocky Mountains as your back drop, but the fact that Pat farms ground right next to Denver International Airport. It was really hard to focus when just a few hundred yards away, you had planes landing from all over the world. It really was a once in a life time experience.
Service pickup caper
Sometimes I can be minding my own business and then the strangest things will take place. Let me explain. We were cutting wheat east of Denver; 104th Street divided the two fields we were cutting. We parked our service pickup, a Dodge 4500, and Pat's personal pickup, a Ford F150, at the corner of the field. Pat's daughter in law was operating a 9770 and I was in my 9670; we had just finished the field on the south side of 104th and we were making our way across the field to cross the road and go into the next field where Louis was already cutting and Pat was in the tractor and grain cart.
As I was crossing the field, I looked to the east and saw this guy walking down the dirt road with no shirt on and wearing tan work pants. I got on the radio and mentioned this to Pat and Louis. Louis said he is probably getting his exercise, so I just continued on. We got caught up in cutting wheat when all at once, Pat came over the radio and asked Louis where he parked the Dodge. Louis told him it should be up at the corner with his pickup—nobody had moved it.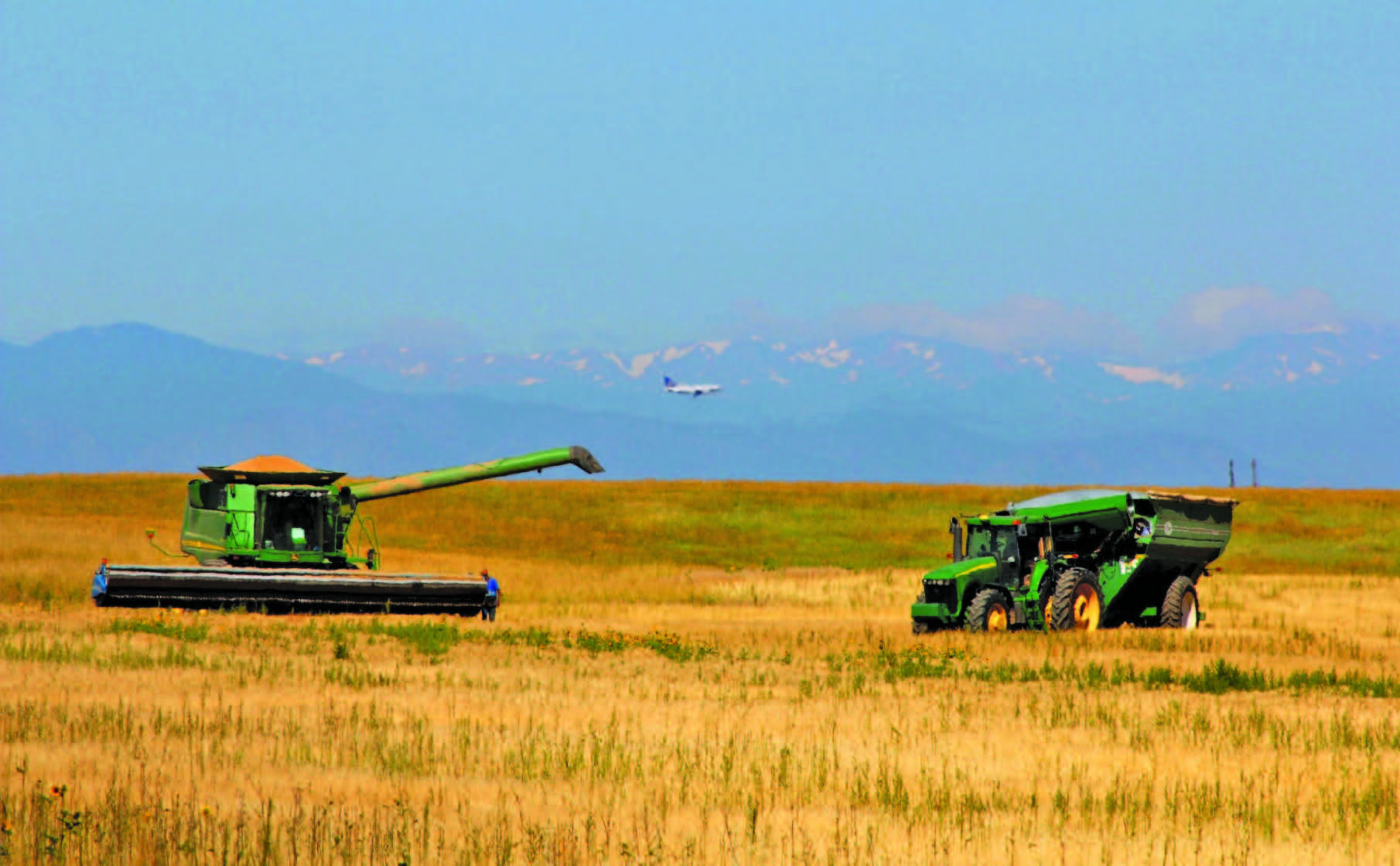 As it turned out, our exercise guy had taken off with our service pickup, right from under our noses! Panic set in for Louis, who had left his wallet in the pickup. The sheriff is called and as we were sitting there waiting on him, I told Pat we ought to drive back in the direction the unidentified man came from. We actually followed the foot prints back to a house owned by Tow Joe. I don't recall his full name but I do remember he introduced himself as Joe and since he owned a tow truck, he said people call him Tow Joe. So we started quizzing Tow Joe about this guy. He didn't know him but said his friend, Gypsy, did. He told us where Gypsy lived and we left.
I went back to cutting wheat but Pat found Gypsy, who gave this long story that didn't amount to anything, but he told Pat he would get his pickup back. We didn't buy this at all, but sure enough, a day later Pat actually got a call from Gypsy and he told Pat and Louis to meet him and he would take Pat to his truck.
When he led Pat and Louis to the pickup, EVERYTHING was still there. It had been moved but the only two things missing were our ice chest and Louis' snuff. This service truck was full of tools, had an air compressor on back and Louis' wallet inside. It was all there. All the tools had been moved, like someone had unloaded them and then put them back, but Louis could not find anything missing. What is even more amazing is that Louis' wallet (with all his debit cards and credit cards) was there.
It gets even more odd—when the pickup was stolen, Louis had some South African paper money folded in half and stuck halfway in the CD slot of the radio. When he got the pickup back, that money was folded and put in his wallet! It was one of the most bizarre things I have ever witnessed. Whoever stole the pickup did use Louis' debit card—they spent $16 at Taco Bell and $7 at the liquor store. We couldn't believe it. We all speculated about what went on. I never met Gypsy but I did see the guy that took the pickup and Pat said they were not the same guy. So we were left bamboozled about the entire ordeal. I know this story sounds like fiction, but I could never make anything up this crazy. Louis was really happy to get that Dodge back; he loves that pickup. He is a huge Dodge fan—I am a Ford guy so we constantly go back and forth about who builds the best pickup. Louis pointed out to me that the guy stole the Dodge and not the Ford and they were both sitting there with keys in them. I just told Louis that here in America, it was only a misdemeanor to steal a Dodge but a felony to steal a Ford, which is why the guy chose the Dodge!
Back home
I spent three weeks harvesting wheat around the Denver area. I had the opportunity to use a stripper header for the first time. I got to cut wheat with some great people and I also got the opportunity for a small adventure. First, I got to visit the Denver Union Stockyards. I had wanted to do this for a long time as Earl informed me that the City of Denver, in their great wisdom, was tearing the stockyards down. I wanted to take some pictures so when we were finished cutting, I got up one morning and went down to the stockyards.
It was a great experience, as I was all alone. I spent a little bit of time walking around and taking pictures. I even climbed up on the wooden observation deck that was built at the corners of the pens. These are where the buyers would stand and look over the pens of cattle. It was pretty neat to stand up there—I could almost go back in time and imagine when the stockyards were full of life, a vibrant and important part of the city (instead of being seen as something that needed to be torn down). I took pictures of the exchange building, the only scale house left and some of the old buildings that were the packing plants or part of the packing plants. I really enjoyed my time there.
From there, I headed into the mountains with no real destination in mind. I ended up at Georgetown, Colorado. I spent the afternoon there, wandering around the streets of the old mining town, snapping photos and enjoying the cool weather.
The next day, it was time to head home. So I loaded up Lil Red, said goodbye to Earl and headed out. I broke one of my cardinal rules as I got on I-70 and headed east all the way to Oakley, Kansas. From Oakley, I took Hwy. 83 south to Garden City, Kansas. At Garden City, I took Hwy. 400/50 back to Dodge City, then down to Bucklin, Kansas. I made my way through Protection, Kansas and then back to Alva. It was a wonderful three weeks full of new experiences.
It is sad that we only have three more visits together, but the good news is if you enjoy this time we spend together, I am in the process of ironing out the details with another magazine. Stay tuned for the update.
Before we parts ways, I want to thank all veterans and their spouses for their service to our country! It is only because of them that I get to do what I do. I would also like to wish everybody a merry Christmas and Happy New Year! Let us hope that next year is better than this one. Wherever you are and whatever you are doing, I hope everybody is enjoying a peaceful life and until we visit again, remember to take time out of your busy schedule and enjoy your part of the world.