Randy Bodine and his Farmall collectibles
Many collect International Harvester memorabilia, but some of the coolest IH collectibles I have seen were in Randy Bodine's collection. Randy owns Bodine's Landscape Services in Opelika, Alabama and is embedded in Farmall tradition. He and his brother, Robert, and their sister, Glenese, have a farm that has been in the family for eight generations and is going on the ninth. Last year, the Bodines and Chapter 23 were a big part of the 29th Annual Red Power Round Up held in Montgomery. Randy was the show chairman.
Randy's office was a place filled with IH treasures. Randy and his family helped head up the 2018 Red Power Round Up so you could say that Farmall is his passion.
Along with toys, Randy also had some very neat memorabilia, such as IH rings that were given to dealers when the International Harvester 2+2 was introduced. "I've got thimbles, tie tacks, cuff links and more," Randy shared. "I have a key from the truck division of the Springfield, Ohio plant
and even a famous IH cookie cutter.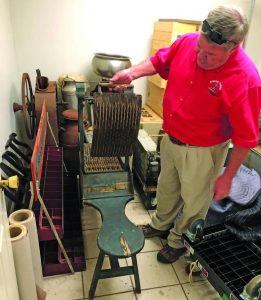 While the memorabilia is wonderful, perhaps the most precious collectible items that Randy has are family photos on original IH equipment. He has a three photo picture frame with three pictures just alike of a man on a cotton picker. The first is of his late father, Frank, then of Randy himself and the third shows his son Matt, all on the same picker—the one that his dad bought so many years ago.
Randy has a room filled with wonderful items like cowboy hats that were giveaways. There were Farmall jackets and a neat picture of Matt with Craig Morgan. The singer with a song about International tractors needed a cold medicine at a show that they were at. Matt just happened to have it. Having the needed medication got him a very cool photo op with the country crooner!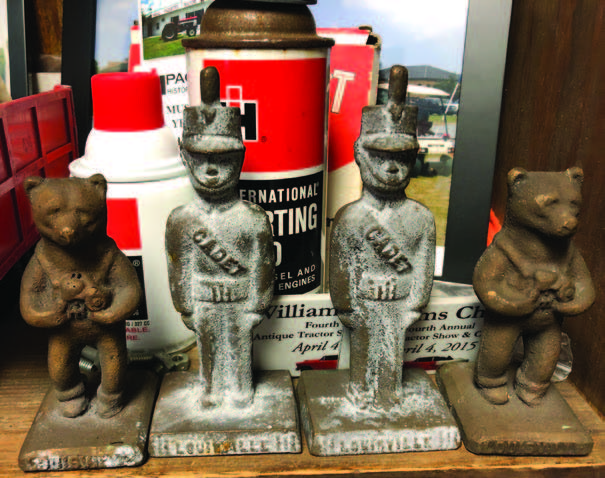 Randy also has collectibles from some of the Australian Farmall Geelong plants. The Geelong plant was once home to International Harvester's largest manufacturing plant in Australia. Commencing in 1939, the plant produced Australia's first tractor as well as many agricultural items, trucks and items for the war effort. This plant, according to plant history, "closed in 1982 and little remains of the factory that once took up 18.6 hectares at North Shore overlooking Corio Bay.
He also has an array of IH signs and so much more. "We are saving IH history in pieces," Randy said about his family.
At his business, the Bodine family had Farmall items both inside and out. Taking a golf cart tour outside, Randy showed us machinery and one very cool large collectible was a metal parts bin that came from the International Harvester Rock Island factory. "I bought this from a dealer that went out of business," Randy said. "They would ship parts in it and this dealer ended up with it. Now, it is a big piece of IH memorabilia.
Randy also has a very early 1800s' cotton gin as well. To round out his collection, Randy had early IH clocks and more! One neat story was about a local International Harvester dealer in Selma, Alabama who knew students would be future buyers so he put IH clocks in local school lunch rooms during the 1930s and 1940s. Randy has one of those clocks! While tractors were the bulk of the collection, Randy's IH memorabilia was fascinating and a great one to share!